In case you missed it.... to read the full issue of Kiwi Surf click here:
http://nz.zinio.com/browse/publications/index.jsp?sch=true&productId=500614942#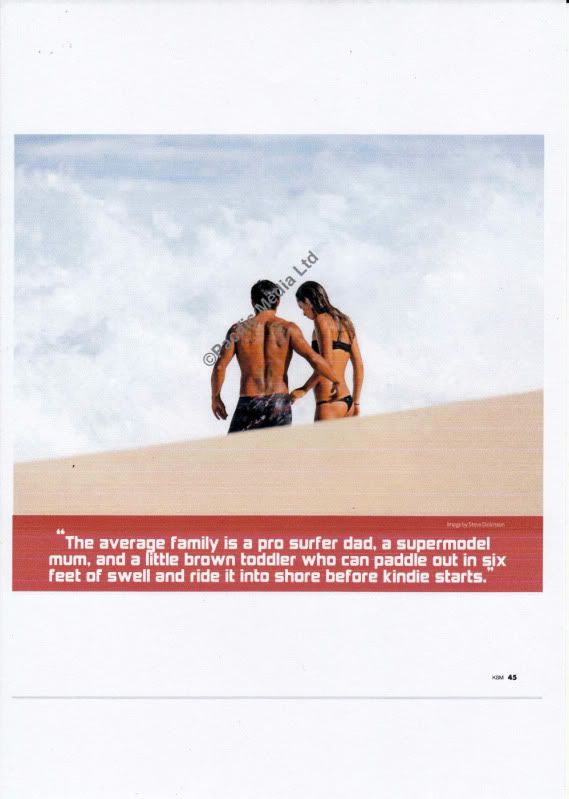 A Kook's Guide to Pipeline
Arriving on the North Shore of Oahu the morning of Pipemasters, I took my coconut coffee down to the beach and was greeted by white water rushing the shore like a million bottles of shaken champagne. Monstrous behemoths cured down upon themselves. Wailing walls of water screamed towards me, viciously signaling the beginning of a season of surfing more ferocious than previous Hawaiian winters. I trembled in my bikini just looking at it. This was Pipeline, the surfer's Colosseum, where everyday people become gladiators, and spectators watch to see who will live, and who might die.
Everyone seemed to have taken the day off. The shouts of superheroes out on the water could be heard over the thunderous booms of the ocean.
Hawaii is surfing's Zion, a place of pilgrimage and worship. Make no mistake: if Pipe doesn't rob you of your nuts entirely, it will at least diminish their cockiness

.

When the winter swell rolls in, rumbling ominously in the early hours, you will be compelled to answer the ocean's call: Are you a man? Or a Muppet?
Me, I'm a three foot wave long board kind of girl, so I don't have nuts or Muppets to concern myself with. What I am down with is surfing in a bikini instead of a steamer. I went to Hawaii to see Pipemasters, and hoped that the gods would smile upon Waimea and give us another Eddy.
Just between you and I, I also wanted to soak up the eye candy: Hawaiian locals rubbing slippery shoulders with the French, Japanese, Brazilians and Aussies. Every nation is represented in a kind of erotic Olympics of water sports.
Lets get something out in the open so we can move forward in honesty: I'm not so au fait with the whole who's of these sporty get togethers, let alone the mystifying points system. I mean, I know who Kelly Slater is (babe). I recognized Sunny Garcia at Waimea from his tattoos (Death and Taxes). And the entire island was talking about John John Florence, an albino jailbait local favourite. But as far as the miles of entrants to Pipemasters are concerned, it's kind of like One Direction – they all look the same to me. And I mean that as a compliment, because, as we all know, surfers are the sexiest bunch of people in sports.
Driving to our new home at Backyards, I'm assaulted by the rather laughable slogan "Keep the Country COUNTRY" stuck on pretty much everyone's vehicle. The ironic juxtaposition is that most of these vehicles are fully humungous trucks running on tankers of the Devil's oil in amounts inconceivable to us kiwis. Hysterically, the Americans complain about the price of gas, not realizing that they're getting possibly the sweetest deal in the entire world. Talk, talk, talk, that's the yanks for ya.
A word about Americans. They're loud. They talk a lot of shit. And in Hawaii, there are a special breed of Peter Pans who never grew up, and like to tell anyone in earshot about their spiritual quest on the ocean. This can be quite charming, and I tried to listen without judgment. Sometimes that presented a challenge, especially when Chip from SoCal was monologueing about how he is genuinely interested in me and what I do, but never paused long enough to ask those questions. It's their own voices that enrapture them so.
Hawaiians don't do scared. "I can't believe they don't wear protective head gear," I said to a local dude. He looked at me as if my vagina was on my face and laughed. Is it really so crazy to wear a helmet in thirty foot waves breaking in three feet of water over razor sharp coral? Call me stupid, but I can't see why.
If there were a real life Hunger Games, the Hawaiians would definitely kill everyone at the beginning. They're just fearless. They are also some of the best looking people in the world. Sun-kissed long blondes ride bikes wearing bits of dental floss. Sculpted men who look like a cross between Ryan Gosling and the Hulk run effortlessly into pernicious surf. Beautifully honed physiques are abound, and fatties tend to stay on the other side of the island. The average family is a pro surfer dad, a supermodel mum, and a little brown toddler who can paddle out in six feet of swell and ride it into shore before kindie starts.
Slogans are important: "Eddy Would Go" (he did, but he didn't come back), "Live Like Sion" (just don't drown like him) and of course, "Keep the Country COUNTRY!!!!"
I'd like to add a couple of new ones to the mix: "Put your kids IN the car, so they don't die on the back of the truck" is one. "Shut Up and Listen" is another one. But when in Rome…! Well, just shut up and love it.
On the final day of Pipe, I joined the good-looking masses at the beach park. I was thrilled to see Carissa Moore getting out of her enormous vehicle, which took up two precious car parks.
It was all a bit confusing, especially with the distracting naked bodies in the way, but I took my Acai bowl down into the throngs and watched as affable Aussie, Keiren Perrow swiped the crown from Joel Parkinson's salty paws. Not knowing who or what I was looking at didn't stop me weeping tears of sunstroked happiness for old Perrow, who was stoked to the max, pashing his wife and looking positively astonished at his accomplishment. Awwww. So nice!
Kelly came in third, that Floridian dreamboat. Watching his commentary later on the Interweb, it occurred to me that he may be the only person inside of surfing who has a critical faculty and a decent vocabulary. He didn't say "stoked" or "awesome" once. And his shoulders are really broad. No wonder he has an adorable little girlfriend about twenty years his junior. She's a bikini designer you know.
In the weeks after Pipemasters, everybody waited for Waimea to do her thing. Lots of Eddy merchandise was printed by brands, brands, brands, capitalizing on the manufactured stoke. But the hugest waves never came. Instead, I saw THE Pamela Anderson, running along the beach in her black bikini. She smiled, looking relaxed and about fifteen years younger than her forty. Ice T and Coco dazzled us at Cholo's Mexican Restaurant by being totally normal people. Ice T wasn't taking note of anyone's Body Count but Coco's.
When it did pick up at Waimea, the road became unbelievably congested. I watched, as a spectator on the sand got a little too close to the shore break. It picked him up and smashed him back down, breaking his leg. How embarrassing.
I saw a junior girls comp at Haleiwa one windy afternoon. The ten-to-twelve-year olds put my boyfriend's skillz to shame!
After a brave paddle out at Chuns Reef, I'd proven to myself, at least, that I wasn't a complete pussy. I found my bliss at a spot I like to call Buttons, in honour of the surf school there. Gentle, consistent long rides come in steadily at Buttons. I shared waves with a fine lookin' grandma on a stand up paddle board, and a man with his surfing Labrador. In between trying not to crash into the rocks, I lolled about on my sparkly new bubble gum pink Dick Brewer long board with the guardians of the sea – Honu, aka turtles. Forget surf n' turf – Surf n' Turt is where it's at.
Little-known North Shore facts: the average household board collection takes up whole garages and numbers ten at the very least. The average strength of a middle aged man rivals Iron Mike in his prime. Great-grandparents take big guns out when most folks their age are taking out their false teeth.
It was nearly Christmas, so being the independent woman I am, I bankrupted myself and bought a Hawaiian board – the aforementioned pink Dick or Big Pink as she's known at our house. The North Shore is a small place, and on Christmas morning I saw Mr. Brewer at the house next door.
"You should get him to sign your board!" said my boyfriend.
"You should do it, its Christmas," I countered. As we argued back and forth, Dick got into his enormous surf buggy and took off down the road looking grumpy.
The legends do tend to look a bit pissy. Sunny Garcia takes surf lessons out at baby Buttons, and he looks terrifying on his SUP, staring moodily into the distance as if wondering who to smash next.
At Ehukai Beach Park I shared a flight to Mexico, if ya know what I mean, with a guy who looked very familiar. He was Brazilian, and over the course of our conversation he told me he lived in the Hollywood Hills and also had a mansion in Costa Rica where he was soon to be heading. He looked like someone from Point Break perhaps, but I never did find out. The Elusive Brazilian, I called him, with coffee coloured skin and pecs you want to frame and salivate over.
I follow someone on Twitter called @HawaiiProblems. Their latest tweet was "I didn't get lei'd today #hawaiiproblems". Well, the idea was enough for me. I don't think I could handle getting lei'd by a mighty and fearless island superhero. But that doesn't mean I'm not going back this year. And next year. And every year, ever after, until they sink my ashes into Mother Ocean on Oahu's North Shore.
STAY:
There is only one hotel on the North Shore, Turtle Bay Resort. Fabulous, yes, but prohibitively expensive for most. However, VRBO.com and Homeaway.com provide huge lists of rental houses, which rocks because you can cook your own meals and it's way cheaper.
TRANSPORT:
You need a car. Rent one in Waikiki; return it to the airport when you leave. And bring soft racks.
SURF:
Fuck, where to begin?! Gas Chambers, Velzyland, Sunset Beach, Backdoor, Chuns Reef, Waimea Bay, Ehukai Beach Park, Haleiwa, Lanakea, Off The Wall, Cabins, Kammies, Rock Piles, Backyards, Pupukea, Monster Mush and PIPELINE. You can buy a second hand board at one of the surf shops and sell it back at the end of your stay. And if you're not tough enough to paddle to Noo Zeeland, try Buttons – when you see Uncle Brian's truck, you are there.
SHOP:
Island Design Fins – Made on the North Shore, these fins are a collector's dream. Some are plain and brightly coloured, others have designs inlaid. One of a kind souvenirs, you can find them at various surf shops in Haleiwa.
EAT:
Oh Lord. Say hello to Heaven. Meat eaters can go mad and vegans can relax in the knowledge that they wont be starving to death. A few favourites: Beetbox Café in Haleiwa. This place is out the back of a pass-the-pipe-and-granola health food store, Celestial Natural Foods. At the Beetbox you can celeb-spot in close quarters and eat REAL food, vegetarian and vegan. All the babes go there. Cholos is a bad ass Mexican joint in the Haleiwa shopping centre. Again, equal opportunity lust for meat lovers and vegans alike, wash down those free corn chips and salsa with a Chichi and watch the angels go by. Shark's Cove Grill is next door to the world's most expensive supermarket, Foodland (which smells like sewage, and has done for 2 years so far). Shark's Cove is always really busy, so it's better to call in your order. I recommend the Taro burger. O-M-G, YUM! Acai Bowls – they are everywhere and they are the shit. Acai is a purple berry from Brazil. Mixed with frozen berries and banana and laid on top of granola, topped with honey and coconut, this is perfect surf food. It sets you up for the whole day. Have fun comparing all the different joints serving Acai. Big Wave Tomatoes at Haleiwa Markets – I lived for Sundays and these fried green tomatoes. At the time of writing, Haleiwa Markets were under threat of council closure. NO! EDDY WOULD GO!